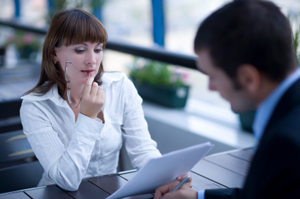 Ne vous êtes-vous jamais posé une question à laquelle vous n'avez pas su où trouver la réponse ou que vous avez eu trop peur de formuler? Si tel est le cas, vous avez frappé à la bonne porte.
Comme son intitulé le suggère, cette section est une compilation de réponses aux questions que nos clients posent régulièrement. Vous trouverez ici les réponses aux questions courantes que posent nos clients. Pour démarrer, il suffit de cliquer sur l'un des liens ci-dessous.
La réponse à cette question n'est pas vraiment simple. Certains travaux peuvent s'effectuer en seulement quelques minutes, alors que d'autres requièrent plusieurs jours. Donnez-nous une date butoir lorsque vous nous apportez un travail, et nous vous dirons si nous pouvons tenir les délais. Nous faisons tout notre possible pour répondre à vos demandes les plus strictes.

Eh bien, puisque vous êtes là, nous vous suggérons d'utiliser notre formulaire de demande de devis en ligne. Sinon, le meilleur moyen de vous assurer que nous disposons de tous les renseignements nécessaires pour vous faire parvenir un devis exact est de nous passer un coup de fil et de parler à un de nos conseillers du service clientèle.

Tips on how to save your design files

Make them print ready and acceptable for us to print.

COREL DRAW:
Saving your Corel Draw file as an Adobe Illustrator EPS
• Embed all Images
• Convert all your text/copy to outline fonts
• Export as Illustrator EPS

FREEHAND:
• Embed all Images
• Convert all your text/copy to paths
• Export as Illustrator EPS or PDF

PAGEMAKER:
Saving your PageMaker file as an EPS
• Embed all Images
• Convert all your text/copy to outline fonts
• Export your file as an EPS using the below settings:
Postscript Level 2
CMYK Mode
TIFF format and
Binary

PUBLISHER:
You will need to have the full version of Adobe Acrobat PDF. If you don't please download and use our Adobe Job Ready Program. If you do have the full version of Adobe Acrobat PDF please follow the steps below.
Under File, Print, select Adobe PDF writer
Under Properties select Press Quality and Save your PDF

At what resolution should I save my photos and graphics?

Resolution should be set to 300 dpi.

Pictures and graphics pulled from the internet are often low resolution, typically 72 dpi or 96 dpi. Avoid these graphics, as they will appear pixilated and blocky when printed.

Also note that you should save all photos in CMYK mode, not RGB mode when possible. Images saved in RGB mode may not print properly. If you are unable to save your image in CYMK mode, please let us know.

Qu'est-ce qu'une 'épreuve'?

Il s'agit d'une opération qui consiste à vérifier que la mise en page et la disposition sont conformes à vos exigences et à les rectifier si besoin est. Habituellement, nous tirons une épreuve que nous vous envoyons en ligne ou que nous imprimons sur papier pour que vous puissiez l'examiner dans notre magasin ou que nous pouvons vous livrer en personne.

Concernant les travaux couleur multiples, nous pouvons tirer une épreuve couleur sur notre périphérique de sortie couleur pour vous montrer comment les différentes couleurs vont apparaître.

What is the Pantone Matching System?

The Pantone Matching System (PMS) is a color reproduction standard in which colors all across the spectrum are each identified by a unique, independent number. The use of PMS allows us to precisely match colors and maintain color consistency throughout the printing process.

Why do the printed colors look different from the colors on my screen?

In short, printers and monitors produce colors in different ways.

Monitors use the RGB (red, green, blue) color model, which usually supports a wider spectrum of colors. Printers use the CMYK (cyan, magenta, yellow, black) color model, which can reproduce most—but not all—of the colors in the RGB color model. Depending on the equipment used, CMYK generally matches 85–90% of the colors in the RGB model.

When a color is selected from the RGB model that is out of the range of the CMYK model, the application chooses what it thinks is the closest color that will match. Programs like Adobe Photoshop will allow you to choose which color will be replaced. Others may not.

Is white considered a printing color?

Not typically. Because white is the default color of paper, it is simply recognized as the absence of any ink. However, when using colored paper, white ink may be used if any text or graphic requires it.

What file format should I use when submitting my electronic document for printing?

PDF (Portable Document Format) is the most common and preferred file format for submitting digital documents. With the installation of a PDF print driver on your computer, virtually any program can generate a PDF file suitable for printing. Both commercial and free PDF print drivers are available online for download from different sources.

Once I submit the documents, how long will it take to finish my job?

Simple jobs are often completed in less than an hour. Some jobs, however, may take several days to complete depending on their complexity and size. We always strive to provide an accurate estimate of the turnaround time for each job we do. And we'll always work with you to find ways to complete your project when you need it.